Fredrik's Game&Watch Special
Last Modified: 2004-02-01
[ About the game | The Winner letter | Gallery | Serial Number Listing | Vote ]
YM-901 Special
"Super Mario Bros"
Nintendo Game&Watch


This is a rare special model of the Super Mario Bros Game & Watch which wasn't for sale!! Only given away as a prize to Nintendo players winning the F-1 Grand Prix Tournament in Japan.

As far as I know only 10,000 of these were made.

Title: "Super Mario Bros." (Same as YM-108)
Model no.: YM-901-S
Manufacture: Nintendo Co. Ltd, Kyoto
Year: 1987
Display Type: Liquid Crystal Display (LCD)
Watch Batteries: 2xLD43 or 2xSR43
Total number of buttons: 9 (4 controllers, 1 jump, game, time, alarm and acl)
Weight: 65 gram (0,01 Pounds)
Height: 86 mm (3,38")
Width: 91 mm (3,58")
Depth: 10,6 mm (0,04")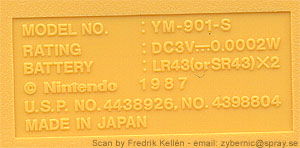 The back of the game.
[ About the game | The Winner letter | Gallery | Serial Number Listing | Vote ]