Welcome to
Fredrik's Game&Watch Collection
NEWS / Update:
13 November 2020:
- New Game&Watch game since the 80's!

29 August 2006:
- New Forum! - This is your place to talk about Game&Watch with Game&Watch collector and friends. Discussion, question etc. about this site. You can also buy, sell and trade Game&Watch stuff here!

1 February 2004:
- After almost seven years (Spring 1998 to January 2004), this site has moved to its own domain.
From Spring 1998 to Monday 6th september 1999 -
After 1 ˝ years collecting = 59 by 59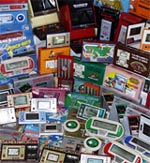 - THE FIRST OFFICIAL MOST
COMPLETE GAME&WATCH COLLECTION
IN SCANDINAVIA!!
There may be thousands of games that are more advanced and more fun to play, but few of those have so high nostalgic value as Nintendo's Game&Watch games.

April 28:th 1980 was the date for the first release ever of a Game&Watch game. It was introduced by designer Gunpei Yokoi (1941-1997), and suddenly there was a Game&Watch in almost every home.

In Scandinavia alone almost two million games were sold during 1981-1992. In Sweden 800.000 units (Source: Nintendo.se). The games featuring Donkey Kong and Marios Bros became huge successes in the 80's.
As far as I know only official 59 different G&W-games have been released by Nintendo Co. Ltd, Kyoto, in Japan.
There are 12 different categories of Game & Watch: The first Silver-series that was produced in 1980, then came Gold (1981), Widescreen (1981-1982), Multiscreen (1982-1989), Tabletop (1983), Panorama (1983-1984), New Widescreen (1982-1991), Super Color (1984), Micro Vs. (1984) Crystal Screen (1986), Special (1987) and 35th anniversary (2020).
If you have any Game & Watches you want to sell or trade, please let me
know. Please note however that nothing on my collection-list is for sale...
With best regards

Fredrik Kellén
G&W-collector/webmaster